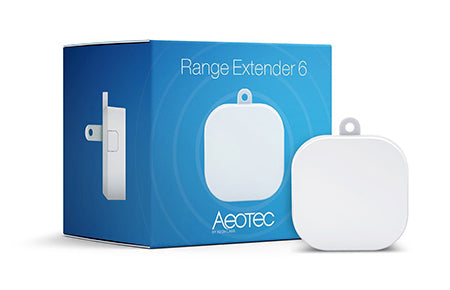 AEOTEC Z-Wave Range Extender
Regular price $69.00 Sale
Quick Overview
Range Extender 6.
The Range Extender 6 keeps it reliable. We all know how annoying weak wireless signals can be. Weak WiFi and poor phone signals are frustrating. Imagine if your smart home was also plagued by weak wireless signals and the same frustrations? Your smart home would not be very smart. The Range Extender 6 from Aeotec ensures that your connected home stays connected. It intelligently listens to the commands and reports that your Z-Wave network sends, actively capturing weak signals and then amplifying and repeating them.
Product Details
Repeats wireless signals.
Repeats wireless signals. For your smart home to be perfect, its wireless signals need to be reliable. Range Extender 6 captures weak or slow signals and efficiently repeats them on to the rest of your Z-Wave network.
Amplifies wireless signals.
Amplifies wireless signals. Not only does Range Extender 6 accurately repeat Z-Wave signals, it amplifies them too and helps improve the reliability and accuracy of your Z-Wave network.
Big on impact. Small in size.
Range Extender 6 is a power-outlet friendly device, designed to be as small and as compact as possible without compromising on performance. so that it doesn't block neighbouring power outlets.
Technical Specifications:
RF Protocol: Z-Wave Plus (500 series chip)
RF Frequency: 921.42Mhz - AU/NZ approved RF for Z-wave
Z-Wave device type: Amplifier
Power: 240V AC
Operation Range: Up to 150m without obstacles
Application: Indoor use only
Operation temperature: 0 ~ 55 °C
Storage temperature: -10 ~ 80 °C
Color: White
Weight: 50g
Housing: ABS
Dimensions: (LxWxH) 43mm x 40mm x 16mm
Compliance: Z-Wave Plus certified
Warranty: 12 Months
Nimbull Smart Home is an authorised distributor of this product. We guarantee that this product is authorised Australian stock and comes with a manufacturer warranty.
Questions