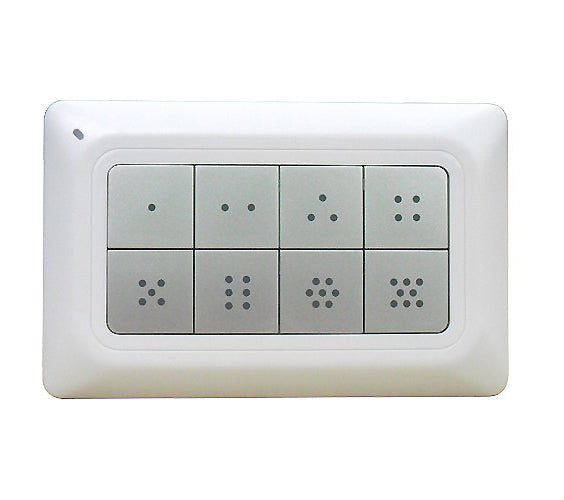 Remotec ZRC-90 Scene Master
Regular price $79.00 Sale
Quick Overview
REMOTEC ZRC-90 Scene Master is a Z-Wave enabled secondary controller for your Z-Wave network. When buttons on the ZRC-90 is pushed, your Z-Wave central controller will receive a signal which it can use to trigger unlimited control possibilities. With 8 buttons, each supporting a long-press capability, you can control 16 different actions in your central controller. The ZRC-90 is a great solution for triggering events more quickly than taking out your smart-phone and running a home control App. The Scene Master is ideal for kids, elderlies and guests who may not have full access to your smart home's mobile application and hence may not have the rights to switch on various lighting, heating, air conditioning and other home appliance. With a convenient snap-in wall mount, the ZRC-90 can also be removed to keep it handy while you go about your home for the ultimate in simple convenience.
Product Details
The REMOTEC ZRC-90 Scene Master works with VeraEdge, Fibaro HC2/Lite and Homesear.
Controls up to 8x2 pre-set scenes and
One learn-key setup and simple operation
Report for key pressed 1 time, 2 times, released and held down
Unlimited controlling capability through gateway
Able to act as a primary or secondary controller
Z-Wave Plus compliant
Super thin, elegant design and able to mount to the wall-bracket
Product Support
Notice: If you are installing the entire Z-Wave™ system for the first time, please refer to the installation guide of your Z-Wave gateway before installing this device.
Technical Specifications:
RF Protocol: Z-Wave Plus ™, SDK version: 6.51.03
RF Frequency: 921.42Mhz - AU/NZ approved RF for Z-wave
Application: Indoor use only
Power: 2 x AAA batteries
Operation Range: Up to 30m indoors with no obstacles
Enclosure: White
Compliance: EMC 2004/108/EC
Operating Temp.: -15C ~ 60C
Dimensions: 110mm x 70mm x 13.5mm
Nimbull Smart Home is an authorised distributor of this product. We guarantee that this product is authorised Australian stock and comes with a manufacturer warranty.
Questions