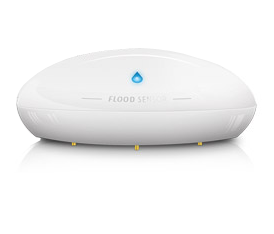 FIBARO Z-Wave Flood Sensor
Regular price $125.00 Sale
Quick Overview
Fibaro Flood Sensor is a universal, Z-Wave compatible, flood and temperature sensor. Device can be battery (ca. 2 years battery life) or VDC powered (12 or 24 VDC). Flood alarm is sent to the Z-Wave network devices or additionally to any alarm system controller, through opening a NC contact.

The device has built in temperature sensor, monitoring temperature of e.g. floor. Fibaro Flood Sensor is designed to be placed on the floor or on a wall with a flood sensor probe extended by connected wire. The device has built in LED indicator and acoustic alarm. In addition, the sensor is equipped with a tilt sensor reporting tilt or movement to the main controller e.g. when someone has taken the Sensor from its original location. LED diode signals flood, operating mode or the Z-Wave network communication range. Fibaro Flood Sensor is sink-proof, which means it drifts on the water surface and keeps on sending alarm signal in case of substantial inundation of water.
Product Details
• Compatible with any Z-Wave network controller
• May be connected to any alarm system (potential free output terminal)
• Extremely easy installation - simply put on a surface prone to flooding
• May be installed anywhere - flood sensor's contacts extended with a wire
• Battery or VDC powered. When connected to an external, VDC power source, the battery serves as an emergency power source
• Theft protection - tilt is reported to the Z-Wave network or alarm system's main controller
• Two operating modes - flood / temperature sensor or just a temperature sensor
Technical Specifications:
Product Name: Flood Sensor
Battery Type: CR123A
Operation Range: 30m
Power: 12 - 24 VDC (optional)
Radio frequency: 921.42 MHz (AU/NZ Z-Wave)
Power Consumption: 0,4W
Operation temperature: 0 - 40C*
Measured temperature range: -20 to 100C
Temperature measuring accuracy: 0,5 C
Housing: ABS
Size (Diameter x Height): 72 x 28 mm
Nimbull Smart Home is an authorised distributor of this product. We guarantee that this product is authorised Australian stock and comes with a manufacturer warranty.
Questions