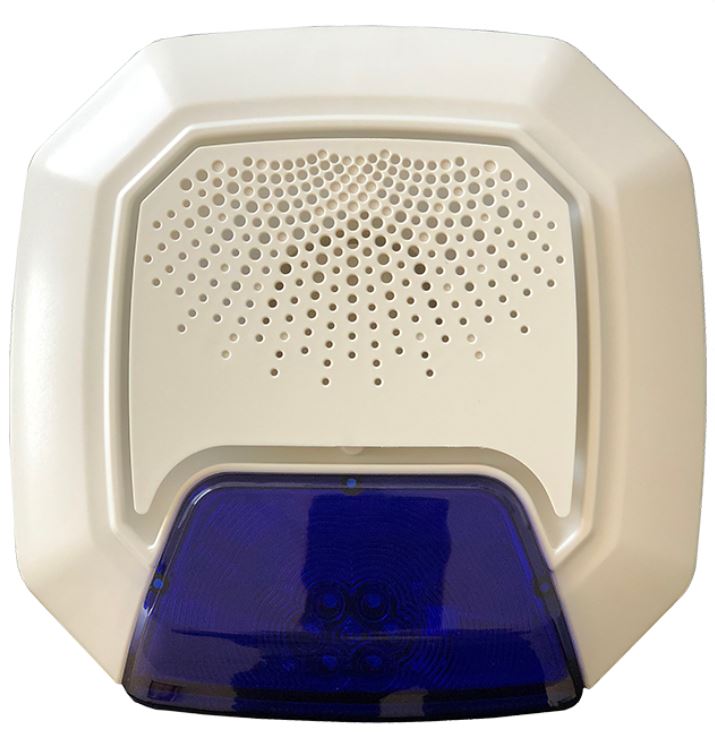 VISION Z-Wave Outdoor Siren
Regular price $169.00 Sale
SKU: ALM-SIR-VIS-OUT
The VISION Z-Wave Siren and Strobe DC is a wireless device capable of producing an audible and visual alarm.

Blue LED flashing strobe light
Loud (>115dB @ 1m) audible alarm
Low battery and tamper indicators
This device includes 4 DD batteries
Configurable with Z-Wave certified gateways
Product Details
The Outdoor Z-Wave Plus Siren is a wireless device, fully programmable with Z-Wave gateways, capable of producing an audible and visual alarm based on your Z-Wave network settings.
This product integrates with all Australian certified (921.42MHz) Z-Wave controllers including:
Vera Edge
Vera Plus
Fibaro Home Center 2/Lite
Homeseer HS3
REMOTEC Z-Wave Universal Remote Controller
RaZberry Pi
Resolution security panels
Alarm.com security panels
Note: This device includes a DD batteries.
Technical Specifications
RF Protocol: Z‐Wave, Z-Wave PLUS CertificationRF Frequency: 921.42Mhz ‐ AU/NZ approved RF for Z‐WaveZ‐Wave device type: Z-Wave binary switchInternal Alarms: Tamper, Low BatteryOperating Voltage : 4 DD batteries (included)Connection Type: WirelessOperation Range: Up to 50m indoor with no obstaclesApplication: Outdoor IP 66Operation temperature: -10°C ~ 60°CLoud Audiable Alarm: 115dB @ 1meterWeight: 1.7 KgHousing: ABSDimensions: (H x W x D) 220mm x 200mm x 65mmCompliance: 
RCM, CE
Nimbull Smart Home is an authorised distributor of this product. We guarantee that this product is authorised Australian stock and comes with a manufacturer warranty.
Questions