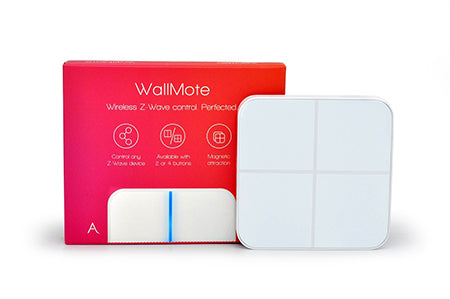 AEOTEC Z-Wave Plus Wallmote - 4 Button
Regular price $99.00 Sale
Quick Overview
On any wall.
The AEOTEC WallMote is the wall switch that you can install anywhere. Wirelessly.
Whatever the room, whatever the wall, the AEOTEC WallMote is perfect. It is the wireless, Z-Wave wall switch that you can place anywhere, on any wall, with as little as double sided tape. Unpack it. Stick it. Charge it. Control is just a tap away.
Simple to install.
The AEOTEC WallMote is the wall switch for anywhere. You can mount it in just two steps!
Attach the mounting plate.
Attach the mounting plate. The AEOTEC WallMote's mounting plate affixes to any wall or surface using custom mounting tape. Peel. Stick. Done.
Attach WallMote.
The AEOTEC WallMote is attractive. Literally. Simply place it in front of the mounting plate and it will magnetically attach.
Product Details
Control on tap.
Control one Z-Wave device. Control many. And all with a single tap.
There is simplicity in tapping touch glass. smartphones proved it. There is power too. Each of your AEOTEC WallMote's buttons can be programmed to control one Z-Wave device or many. Meaning that a single tap on its smooth surface can change a single light, a whole room, or your whole home. Tap good morning. Tap good night. Tap all the moments in between.
Control a light. Control a room. Control a home.
Because the AEOTEC WallMote communicates directly with your Z-Wave gateway, it can be used to control anything that your gateway can. Even things that are not Z-Wave. Smart lighting from Philips Hue? Check. Connected music from Sonos? Easy. If it is connected to your gateway, simply add it to a scene that WallMote can control and it is on top.
Wireless switch.
To be used anywhere in your home, WallMote and WallMote Quad need to be more than wireless. They need to be impressively wireless. Both switches offer a fine-tuned antenna capable of communicating over an open range of over 150 metres.

Secure switch.
Technology changes, now your wall switches change with it. WallMote and WallMote Quad are cutting-edge today and will be cutting-edge tomorrow. They are both capable of receiving wireless firmware updates via Z-Wave Plus so that they are always up to date.
Subtle switch.
Not just portable, but perfectly balanced. The minimalist design of both WallMote and WallMote Quad measures just 7.7cm wide and a slender 1.9cm deep
Simple recharging.
Battery powered but without the need to ever change a battery, WallMote and WallMote Quad are both powered by a rechargeable lithium battery designed for smartphones. It recharges just like a smartphone too via the provided micro USB cable.

Haptic feedback.
It is capable of controlling your whole home, so you may not even be present to see things change when you press WallMote's touch glass. But you will feel the change. WallMote's haptic engine confirms your every action via a click sensation.
Gen5 built in.
WallMote and WallMote Quad are part of Aeotec's Gen5 range of Z-Wave devices. Built upon the latest version of Z-Wave- Z-Wave Plus – cutting-edge performance and security is crafted into Z-Wave's most advanced battery-powered wall switch.
Technical Specifications:
RF Protocol: Z-Wave Plus (500 series chip)
RF Frequency: 921.42Mhz - AU/NZ approved RF for Z-wave
Z-Wave device type: Multilevel controller
Power: Rechargeable Lithium-ion
Operation Range: Up to 40m without obstacles
Application: Indoor use only
Operation temperature: 0 ~ 55 °C
Storage temperature: -10 ~ 80 °C
Color: White
Weight: 100g
Housing: ABS
Dimensions: (LxWxH) 72mm x 72mm x 9mm
Compliance: Z-Wave Plus certified
Warranty: 12 Months
Nimbull Smart Home is an authorised distributor of this product. We guarantee that this product is authorised Australian stock and comes with a manufacturer warranty.
Questions