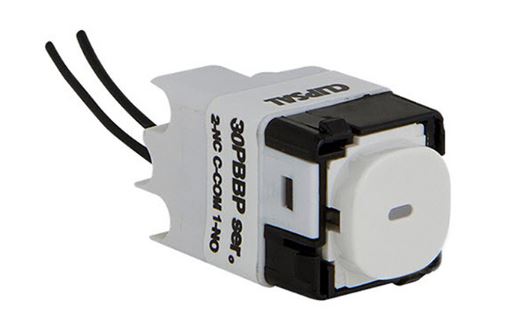 Clipsal Impress Momentary Bell Press Mech
Regular price $25.00 Sale
SKU: CLP-LIT-30PBBP
The Clipsal Impress Momentary Bell Press Mechanism is the perfect switch for Z-Wave Dimmer modules. A quick press will turn the lights on / off - pressing and holding will also allow dimming/brightening from your Clipsal 2000 Series wall-switch.
Key Features
Bell press mechanism
Momentary action
One way/two way switching facility with loop terminal
Retrofit option in to any 30 series aperture
Suitable for fluorescent loads Up to 16AX
Technical Specifications:
Sub Brand Impress, Series 30
Assembly arrangement Basic element with full cover plate
Model Single push button
Method of operation Push button
With lighting No
Material Plastic
Push current 16 A
Nominal voltage 250 Vac
Size 21 Length x 21 Width x 10 Depth Vac
Nimbull Smart Home is an authorised distributor of this product. We guarantee that this product is authorised Australian stock and comes with a manufacturer warranty.
Questions