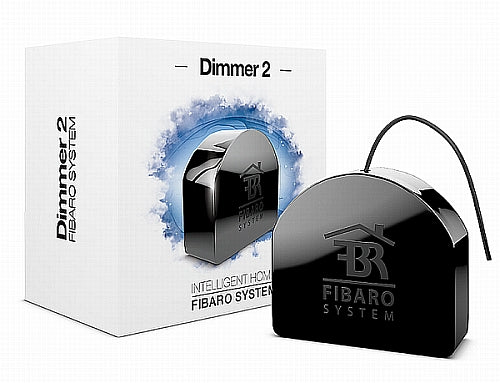 FIBARO Z-Wave Dimmer 2nd Edition
Regular price $120.00 Sale
Quick Overview
The Fibaro Z-Wave In-Wall Dimmer 2 (FGD-212) is a newest version of a popular wireless controller designed to operate behind a wall switch.
Control the level of illumination of your light remotely or using a manual button (in two and three way configuration)
Implemented algorithm of smart light source detection
Acts as a repeater expanding your Z-Wave network
Wide range of compatibility with existing light fittings and does NOT require expensive re-wiring
Active power and energy metering functionality
Works with various types of manual buttons
Active element: semiconductor electronic switch
Product Details

The Fibaro Z-Wave In-Wall Dimmer 2 is designed to operate with or without a neutral wire. It may be used as a switch in systems without a neutral wire.
In case of 2-wire connection (no neutral), the Fibaro Z-Wave In-Wall Dimmer 2 may require a minimum load of 50W depending on specifics of the connected load.
When used with a Fibaro Dimmer Bypass 2 it may operate with any compatible (see below) load from 5W. Before committing to buy Fibaro Dimmer Bypass 2 please check if your load can be properly controlled by Fibaro Dimmer 2 without bypass device.
Do not connect this device to a power supply without a load. Only lighting devices may be connected to this device.
As a dimmer it operates with the following loads:
230V operated conventional incandescent (from 50W to 250W)
230V operated halogen (from 50W to 200W)
12 V operated ELV halogen lamps and dimmable LED lamps (with electronic transformers: Trailing and Leading edge type) (from 50W to 200W)
12V operated MLV halogen lamps (with frromagnetic transformers) (from 50W to 225W)
Dimmable CFL tube lamps with electronic ballast only (from 50W to 200W)
As a switch it operates with the following loads:
Compact fluorescent lamps with electronic balast
LED bulbs (power factor >0.7)
Fluorescent tube lamps with electronic balast
Please note: For loads other than resistive do not exceed a 1.5A current.
This product integrates with all Australian certified (921.42 MHz) Z-Wave and Z-Wave Plus controllers including:
Vera 3/ Lite / Edge
Fibaro Home Center 2 / Lite
Please note: Do not mix the load type (e.g. LED and CFL or different type of transformers) as it will impede the proper operation of the dimmer. Doing so will void the dimmer's warranty.
Configuring Z-Wave Devices:
Z-Wave devices often have several configurable parameters which you can change using your Vera's user interface. These parameters can include things such as the length of time a Z-Wave siren remains active for or the type of manual switch connected to a Z-Wave light controller.
Every available configurable parameter is listed in your device's user manual. In most cases your device's default parameters will be suitable to your needs however sometimes it may be necessary to adjust them to optimally use your device. A guide to configuring Z-Wave devices with Vera UI7 is available in the Manuals section.
Technical Specifications
RF Protocol: Z-Wave
RF Frequency: 921.42Mhz ? AU/NZ approved RF for Z-wave
Z?wave device type: Z-Wave multiple level dimmer, routing slave
Power Supply: 220 - 240V ~ 50Hz
Operation Range: Up to 30m indoors (depending on building materials)
Application: Indoor use only
Operation temperature: 0 ~ 35 °C
Dimensions (L x W x H): 42.5mm x 38.25mm x 20.3mm
Weight: 30g
Operational Current: 0.25 - 1.1A
Compliance: RCM E3606
Dimming type compatibility: Leading and Trailing Edge
Nimbull Smart Home is an authorised distributor of this product. We guarantee that this product is authorised Australian stock and comes with a manufacturer warranty.
Questions