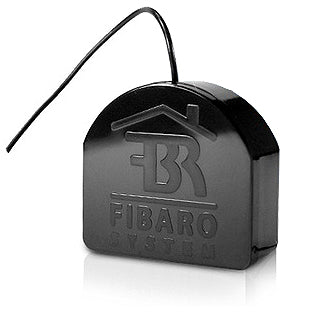 FIBARO Z-Wave RGBW Controller
Regular price $120.00 Sale
Quick Overview
The FIBARO Z-Wave RGBW Controller is a wireless controller which enables you to manage your lighting decoration.
Wirelessly control LEDs with an unlimited range of colour options
Monitors energy usage
Four analogue sensor inputs
Four dimmer channels
Acts as a repeater expanding your Z-Wave network
Product Details
The FIBARO Z-Wave RGBW Controller is a one of a kind, advanced wireless 4-colour LED strip controller. Apart from the traditional RGB channels it also supports the white light channel which allows you to add pastel colours to your lighting decorations.
The FIBARO Z-Wave RGBW Controller also has four analogue inputs supporting any type of Fibaro sensor (e.g. light sensors, wind sensors, pressure sensors and potentiometers operating between 0-10V). This smart feature allows you to use your lighting as a warning for certain events. You could, for example, set your RGB garden lights to turn red and flicker when one of your security sensors is triggered, alerting your neighbours to the intruder and allowing them to notify the proper authorities.
This device has four output channels which means that you can connect and independently control up to four light sources. The FIBARO Z-Wave RGBW Controller also allows you to monitor the energy consumed by the LED strips. Each of the four channels can be monitored independently providing you with all the information you need to minimise your energy bills.
The FIBARO Z-Wave RGBW Controller can control:
12 / 24V DC powered RGB strips
12 / 24V DC powered RGBW strips
12 / 24V DC powered LED strips, bulbs, etc
12 / 24V DC powered halogen lights
12 / 24V DC powered low output power fans
This product integrates with all Australian certified (921.42 MHz) Z-Wave controllers including:
Vera Edge/3/Lite
Fibaro Home Center 2/Lite
The FIBARO Z-Wave RGBW Controller is compatible with the
DHS RGB LED Strip
which is also available.
Configuring Z-Wave Devices:
Z-Wave devices often have several configurable parameters which you can change using your Vera's user interface. These parameters can include things such as the length of time a Z-Wave siren remains active for or the type of manual switch connected to a Z-Wave light controller.
Every available configurable parameter is listed in your device's user manual. In most cases your device's default parameters will be suitable to your needs however sometimes it may be necessary to adjust them to optimally use your device. A guide to configuring Z-Wave devices with Vera UI7 is available in the Manuals section.
Technical Specifications:
RF Protocol: Z-Wave
RF Frequency: 921.42Mhz - AU/NZ approved RF for Z-wave
Z?Wave device type: Z-Wave dimmer
Power: 12V and 24V
Operation Range: Up to 50m outdoors, up to 30m indoors (depending on terrain and building structure)
Application: Controlled automatically by pre-set Fibaro devices or manually using any Z-Wave controller
Operation temperature: 0 ~ 55 °C
Storage temperature: -10 ~ 80 °C
Weight: 50g
Housing: ABS
Compliance: EN 55015, EN 60669-2-1
Regulatory Compliance Mark: N5496
Nimbull Smart Home is an authorised distributor of this product. We guarantee that this product is authorised Australian stock and comes with a manufacturer warranty.
Questions