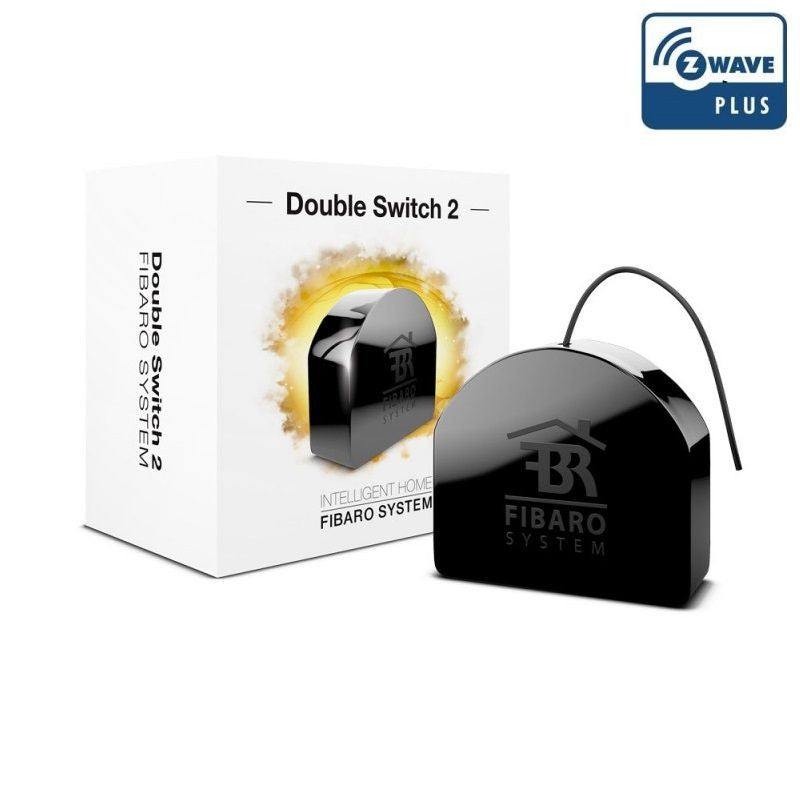 FIBARO ZWave Double Switch 2
Regular price $120.00 Sale
Quick Overview
The Fibaro Z-Wave Double Switch 2 (FIBEFGS-223) is a smart Z-Wave wireless module which can control two circuits each with a maximum load of 6.5A per channel and 10A total load per circuit.
Control the ON-OFF function of two two independent circuits or appliances remotely or using a wall switch
Compatible with all Z-Wave networks
Acts as a repeater expanding your Z-Wave network
Wide range of compatibility with existing light fittings and does NOT require expensive cabling
Latest generation Z-Wave 500 series chip
Z-Wave Plus certification
Very accurate energy measurement +/- 1 % for power above 5W
Supports secure mode (Z-Wave Network Security) encrypted with AES-128
No dry contacts - this is important. It means that the new FGS-223 cannot be used to control low voltage systems such as garden lights and irrigation, or where you want a pure volt-free switch such as alarm panels and garage door controls. If you need device with dry contacts please see zConnect Z-Wave Garage Door Opener or FIBARO Z-Wave Sgl Switch InWall or DHS Z-Wave Sgl Switch InWall
Product Details
The Fibaro Z-Wave Double Switch 2 (FIBEFGS-223) is a smart Z-Wave controller capable of remotely operating your existing light fittings. It works with Z-Wave enabled controllers (AUS/NZ version) and can be controlled individually or as part of a group in a pre-configured Scene.
The device is designed to operate inside your wall socket and can be easily installed by a qualified electrician.
This Fibaro Fibaro Z-Wave Double Switch 2 requires 3-wire (including neutral) installation and works with an AC (230V) power supply.
The Fibaro Z-Wave Double Switch 2 also features a secondary switch input which allows it to directly control other associated Z-Wave devices. This means that by turning the switch ON/OFF you can also turn other associated devices ON/OFF even if they are not physically connected to the same Fibaro module. It also enables you to control the local load as part of 2-way and multi-way lighting circuits.
This product integrates with all Australian certified (921.42MHz) Z-Wave controllers including:
Raspberry PI with RaZberry Card
Fibaro Home Controller 2/Lite
DHS Z-Wave Universal Remote Controller
DHS Z-Wave Mini Remote Controller
Configuring Z-Wave Devices:
Z-Wave devices often have several configurable parameters which you can change using your Vera's user interface. These parameters can include things such as the length of time a Z-Wave siren remains active for or the type of manual switch connected to a Z-Wave light controller.
Every available configurable parameter is listed in your device's user manual. In most cases your device's default parameters will be suitable to your needs however sometimes it may be necessary to adjust them to optimally use your device. A guide to configuring Z-Wave devices with Vera UI7 is available in the Manuals section.
Technical Specifications:
RF Protocol: Z-Wave
RF Frequency: 921.42Mhz - AU/NZ approved RF for Z-wave
Z?Wave device type: Z-Wave Switch, Routing Slave
Power: 230V ± 10% 50/60 Hz
Operation Range: Up to 20 m indoors with no obstacles
Application: Indoor use only, up to 1.5kW resistive load per circuit
Operation temperature: 0 ~ 55 °C
Storage temperature: -10 ~ 80 °C
Weight: 50g
Housing: ABS
Compliance: EN 55015, EN 60669-2-1
Regulatory Compliance Mark: N5496
Dimensions: (LxWxH) 42mm x 37mm x 17mm
Nimbull Smart Home is an authorised distributor of this product. We guarantee that this product is authorised Australian stock and comes with a manufacturer warranty.
Questions