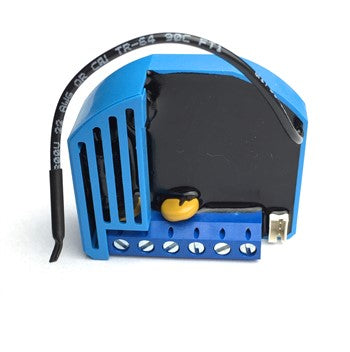 Qubino Z-Wave Dimmer InWall
Regular price $99.00 Sale
Quick Overview
The Qubino Flush Dimmer is the first MOSFET- switching light Z-Wave dimmer module that also supports control of low-voltage halogen lamps with electronic transformer, dimmable compact fluorescent lights and dimmable LED bulbs. It also measures the power consumption of electrical devices and supports the connection of a digital temperature sensor.
Qubino modules are "install-and-forget" products. Our products are made to last, so we only select and use top-quality electronic components. These modules are also the most tested Z-Wave microcontrollers on the market. The Slovenian Institute of Quality and Metrology (SIQ), an independent testing body, tests safety parameters including temperature rise, construction, insulation resistance, power consumption and overload in accordance with the EN 60669-2-1 standard.
Product Details
The Qubino Z-Wave Dimmer module occupies a smaller volume than comparable modules of any other brand and will fit easily in any flush mounting box.
The Qubino Z-Wave Dimmer can measure the power consumption of the connected electrical device and itself has an extremely low power consumption of just 0.7 W.
The Qubino Z-Wave Dimmer can operate across a wide temperature range, from a chilly -10˚C to a scorching 40˚C (14˚–104˚F). It supports the connection of a digital temperature sensor, which is also useful for creating complex scenarios. Every module also acts as a repeater in order to improve the range and stability of the Z-Wave network.
Unlimited controlling capability through gateway
Setting mono-stable (push button) or bi-stable switch type
Product Support
Please note: If you are installing the entire Z-Wave™ system for the first time, please refer to the installation guide of your Z-Wave gateway before installing this device.
The Qubino Dimmer uses a unique MOSFET 'trailing edge' dimmer to enable it to work with a huge range of bulb types:
Halogen and Incandescent (230V)
Dimmable LEDs (230V)
Dimmable CFL and Fluorescent (230V)
Low Voltage Halogen (24V)
Low Voltage LED (24V)
The Qubino Dimmer can be used in the 230V mains lighting system where it uses a 'Trailing Edge' style dimmer to control the lights. It can also be used in a 24V low-voltage system where it uses PWM style control of the bulbs.
Configuring Z-Wave Devices:
Z-Wave devices often have several configurable parameters which you can change using your Vera's user interface. These parameters can include things such as the length of time a Z-Wave siren remains active for or the type of manual switch connected to a Z-Wave light controller.
Every available configurable parameter is listed in your device's user manual. In most cases, your device's default parameters will be suitable to your needs however sometimes it may be necessary to adjust them to optimally use your device. A guide to configuring Z-Wave devices with Vera UI7 is available in the Manuals section.
Technical Specifications:
RF Protocol: Z-Wave Plus ™, SDK version: 6.51.03
RF Frequency: 921.42Mhz - AU/NZ approved RF for Z-wave
Application: Indoor use only
Power: 0.6 A / 230 VAC, 0.85 A / 30 VDC
Operation Range: Up to 30m indoors with no obstacles
Enclosure: Plastic
Compliance: EN 60669-2-1
Operating Temp.: -10C ~ +40C
Dimensions: 41.8mm x 36.8mm x 15.4mm
Note: Previous product name GOAP  Z-Wave Plus Dimmer InWall
Nimbull Smart Home is an authorised distributor of this product. We guarantee that this product is authorised Australian stock and comes with a manufacturer warranty.
Questions