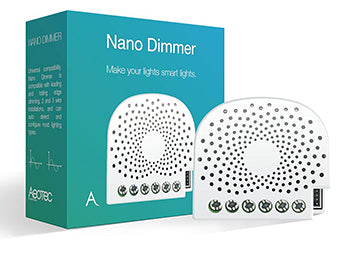 AEOTEC Z-Wave Nano Dimmer InWall
Regular price $95.00 Sale
Quick Overview
The AEOTEC Nano Dimmer InWall dramatically improves the lighting in your home. Aeotec 3rd generation of invisible lighting controller outperforms all that has come before it. Dimming is smoother. Compatibility is broader. Lighting is faster and more responsive. Automation and intelligence have never been more powerful. And it comes in such a small size, that you'll be amazed at just how much functionality we were able to craft inside.
Perfect lighting is a part of every truly smart home. Lighting that is responsive. That is always the right brightness. That is always on when you need it, and off when you don't. But perfect lighting has never been easy.
Instead, perfect lighting has been too complicated to achieve. In the past, to automate your lights with Z-Wave you've had to worry about the type of wiring you have, whether your lighting is trailing or leading edge, and whether you're using TRIACs or thyristors. Far too complicated. Get any of those wrong and your connected lighting would quickly become a connected headache.
No more. Nano Dimmer offers smart, connected lighting without any of the hassle.
Product Details
Nano Dimmer lets you add new and existing lights to your Z-Wave system. It makes your lights smarter. It makes them responsive. It gives you the ability to control them, schedule, dim them and brighten them.
All that control and intelligence comes from simply wiring Nano Dimmer behind an existing wall switch.
Technical Specifications:
RF Protocol: Z-Wave Plus (500 series chip)
RF Frequency: 921.42Mhz - AU/NZ approved RF for Z-wave
Z-Wave device type: Multilevel dimmer
Power: 240V AC
Operation Range: Up to 40m without obstacles
Application: Indoor use only
Operation temperature: 0 ~ 55 °C
Storage temperature: -10 ~ 80 °C
Color: white
Weight: 100g
Housing: ABS
Size: 43mm x 40mm x 16mm
Compliance: Z-Wave Plus certified
Warranty: 12 Months
Nimbull Smart Home is an authorised distributor of this product. We guarantee that this product is authorised Australian stock and comes with a manufacturer warranty.
Questions