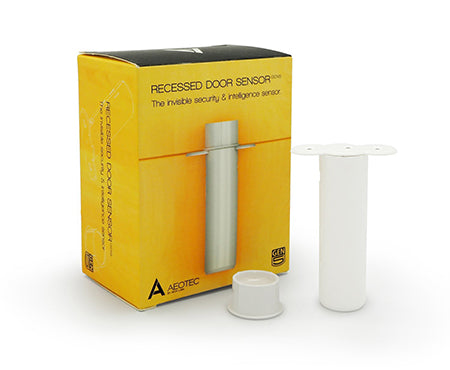 AEOTEC Z-Wave Recessed Door Sensor
Regular price $69.00 Sale
Quick Overview
The Z-Wave door sensor is finally invisible.
At less than 0.4" in width some might call it small and compact. We prefer to call it invisible. It's the Z-Wave door sensor that's been designed as the door sensor should have always been. Powerful but invisible. Recessed Door Sensor is a clever piece of technology that installs simply within your door's frame. It's as beautiful as the rest of your home. You never see it; you just feel its benefits.
Perfect sensor.
Perfect compatibility. With its foundation resting upon Z-Wave Plus, Recessed Door Sensor is compatible with leading Z-Wave gateways and backends out of the box.
Product Details
1 year battery life.
And after a year, changing the battery is as simply as lifting Recessed Door Sensor out of your door, swapping the battery, and inserting the sensor back into your door.
Perfect wireless.
Security sensors have to be dependable. Recessed Door Sensor is. It's wireless communication range reaches Z-Wave's maximum: up to 150 metres / 492 feet when unobstructed.
Gen5.
A security sensor has to be secure. Recessed Door Sensor couples Z-Wave Plus with Aeotec's Gen5. That enables the sensor to utilise AES 128-bit communication encryption in order to secure your home.
Z-Wave Plus.
Furthering your ability to depend upon it, Recessed Door Sensor is built upon the latest version of Z-Wave, Z-Wave Plus. That enables the sensor to communicate 250% faster and with 50% less battery use than older sensors.
Technical Specifications:
RF Protocol: Z-Wave Plus (500 series chip)
RF Frequency: 921.42Mhz - AU/NZ approved RF for Z-wave
Z-Wave device type: Binary sensor
Power: 240V AC
Operation Range: Up to 150m without obstacles
Application: Indoor use only
Operation temperature: 0 ~ 55 °C
Storage temperature: -10 ~ 80 °C
Color: white
Weight: 50g
Housing: ABS
Size: 43mm x 40mm x 16mm
Compliance: Z-Wave Plus certified
Warranty: 12 Months
Nimbull Smart Home is an authorised distributor of this product. We guarantee that this product is authorised Australian stock and comes with a manufacturer warranty.
Questions