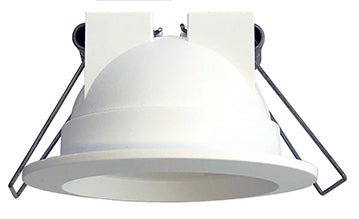 Universal Multisensor Recessor
Regular price $25.00 Sale
Quick Overview
This handy Universal Multisensor Recessor can be used to recess a DOME, PHILIO or Fibaro multi-sensor.
Product Details
Use the Universal Multisensor Recessor to place multi-sensors within a wall or ceiling allowing them to serve their function more discreetly and preserving the aesthetic appeal of your home. It is easy to install and remove. Simply twist the cover off the recessor and place your multi-sensor inside, then pull the recessor clips back as you insert it into the hole in your wall/ceiling.
You can also use the Universal Multisensor Recessor in narrow locations such as hallways to reduce the risk of it being knocked about by passers by.
This product is compatible with the following;
PHILIO Z-Wave PIR Sensor
DOME Z-Wave Multi-sensor
Fibaro Z-Wave Multi-sensor
Technical Specifications:
Application: Indoor use only
Operation temperature: 0 ~ 55 °C
Storage temperature: -10 ~ 80 °C
Color: White
Weight: 35g
Housing: ABS
Dimensions: (LxWxH) 71mm x 71mm x 40mm
Warranty: 12 Months
Nimbull Smart Home is an authorised distributor of this product. We guarantee that this product is authorised Australian stock and comes with a manufacturer warranty.
Questions